Magnet Plating and Coating Options
The following is a list and description of common plating options for custom magnets.Why do magnets need to be plated?
Oxidization (Rust)
NdFeB magnets will oxidize(rust) if left exposed. When a plating wears down or cracks, the exposed area will oxidize. An oxidized area will not result in complete degradation of the magnet, only the oxidized area will lose its strength. However the magnet will lose some structural integrity and become more susceptible to breakage.
Durability
Depending on shape, permanent magnet substrate is brittle. A multilayered metal plating like nickel or zinc improves the magnets resistance to chipping and wear, particularly around corners.
Harsh Environments
Platings vary in their tolerance of different harsh chemicals and abrasion. Salt and humidity in regions near the ocean are commonly overlooked when selecting a plating. Be sure to consider the magnets environment when selecting a plating.
The most common type of plating for neodymium magnets Nickel (Ni-Cu-Ni) Intended for indoor use. It has proven to be very resilient when subjected to normal wear and tear. However it will corrode oudoors in prolonged exposure to salt water, salty air, or harsh chemicals.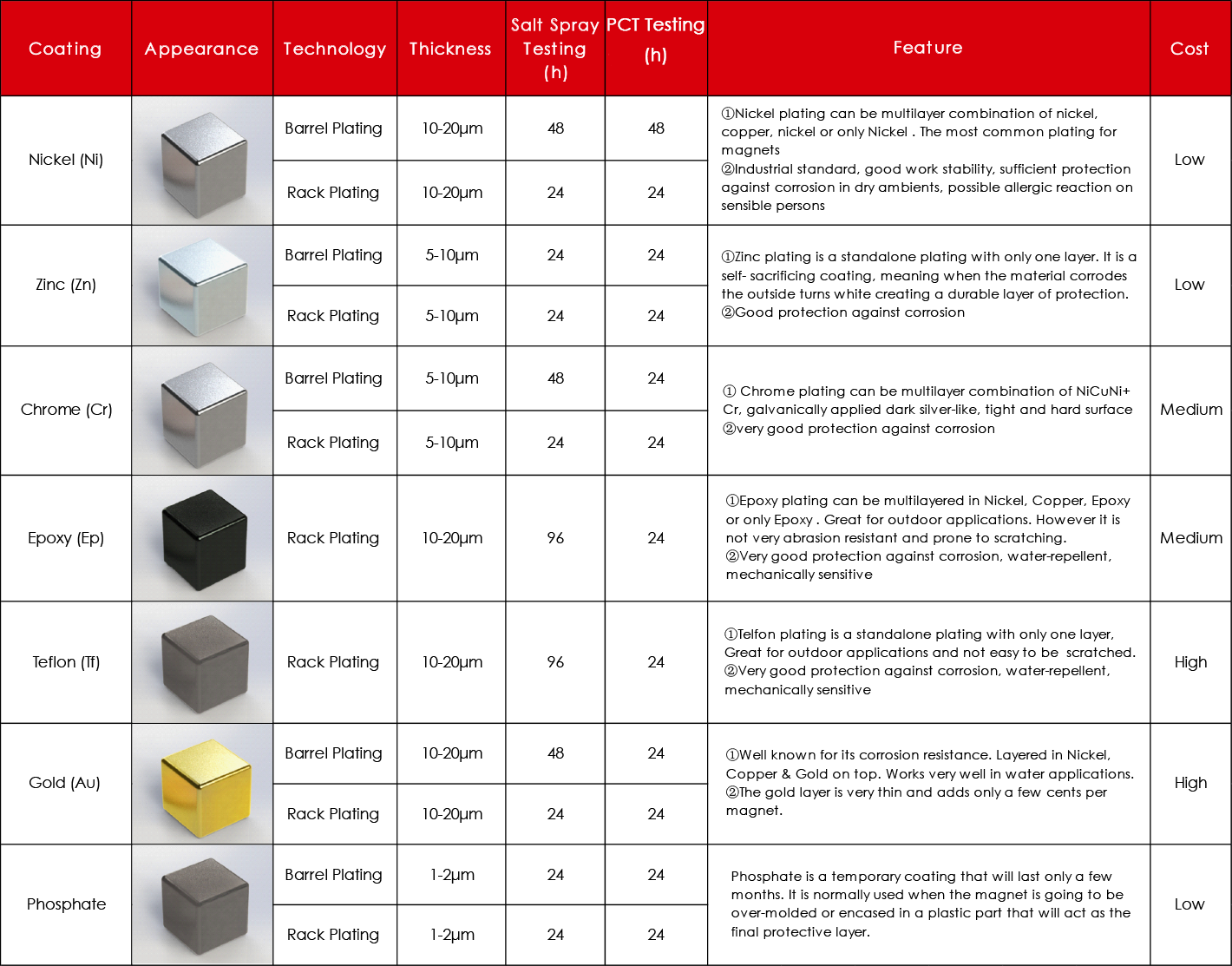 Industrial standard, good work stability, sufficient protection against corrosion in dry ambients, possible allergic reaction on sensible persons
U-POLEMAG Corrosion-proof Coating Solution (Over 500Hrs on SST)
"High density polymar resin coating" is new solution for protecting nedymium magnets which are easy to be oxidized from the rust. It resist over 500 hours on salty spray testing (SST), and we can supply different colors as your request. It's not only a good solution for the rust proof, also passed the allegy patch test by Japanese medical company, used in their medical solutions and also such as medical accessories which will always touch to the human skins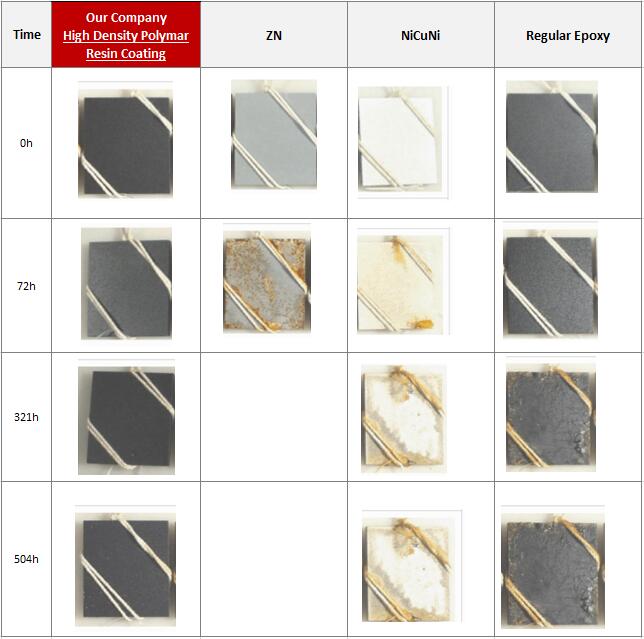 The Characteristics of High Density Polymar Resin Coating (MF305)
Heat resistance
It correspnds to 250℃ of continuation using, and 300℃ of moment using
Elec insulation
1.5 kV/20 μm are realized.(it changes by the conditions of a material.)
Anti-rust
It resist over 500 hours on SST.
Cut process
It adapt successfully to cutting process after the coating to make possible for automatic windding to mini-cores.
Adhesiveness
It has the outstanding adhesiveness, about 5 times strong compared with Ni plating
Tensibility
It has the prevention from scattering of a thin and fragile core and has correspondence to flexible parts.
Coloring Chemical proof Allergy free RoHS,Halogen free Static "L" number Hardness
It has beed used for such as the color classfication of the parts and also to make a original colorful accessories.
It has outstanding chemical resistance, even can be used in alkaline olis for FA motors.
Since it is allergy free resin, it has been used for such as medical usage and verious accessories.
It conforms to international environmental standards, such as RoHS and Halogen free.
Since it gives no strees to the core, the electric inductance will remain static even after the coating.
It has the hard surface, it gives more than 5H as pencil hardness test.